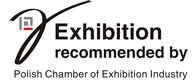 19.02.2019
Stylistically diverse playgrounds, swimming pools and swimming pool technology as well as safe surfaces for recreational zones will be presented during the incomming edition of Sport Invest Fair Trade.
19.02.2019
Another edition of the exceptional in the Polish market Sport and Recreation Trade Fair is ahead of us. The Sport Invest trade fair is the response to the growing trend of expanding the infrastructure of holiday resorts, creating recreation zones in public spaces or attractive playgrounds in private educational establishments or even restaurants or service points.
07.02.2018
INTEX DEVELOPMENT LTD is the largest manufacturer of inflatable recreational and sporting goods in the world. Their pools provide entertainment in home gardens around the world, on hot days being mandatory household equipment.
12.10.2017
Take part in the unique exhibition in Poland and present your offer to nearly 30 000 visitors of SPORT INVEST and GARDENIA Fair!
21.12.2016
Nobody, perhaps, need to be convinced how important is safety on the playgrounds. Not only devices should meet the highest standards but also the surrounding surface.
13.12.2016
Water playground is always a good idea and a great attraction for both children and adults!
26.04.2016
The group of Exhibitors of the SPORT INVEST Forum is expanded by a company that effectively takes care of the purity of the water and swimming pools.
26.04.2016
To the group of SPORT INVEST Forum Exhibitors joined the company, whose products contribute significantly to improving the safety of sports and recreational facilities.